Description
Elevate your outdoor experience with our Lightweight Aluminum Folding Camping Chair with Pillow. Crafted from high-quality aluminum 7075, this chair combines durability, portability, and exceptional comfort, making it an essential companion for your camping, beach, or outdoor adventures.
Outdoor Lightweight  Aluminum Highback Folding Camping Beach Chair Packed in a Carrying Bag
Model Number: MW11047
Material: Durable 100%  Aluminum 7075
Fabric: 900D polyester with PVC coated, waterproof
Color: Orange, Blue, Red, Black, Green, or as your request. Click to view all styles.
Size: 46x58x100cm (18.11″ x 22.83″ x 39.37″)
Folded size: 43x14x15cm (16.93″x5.51″x5.91″), which is very small that you can put it into the backpack.
With pillow
N.W per pc: 1350G (2.98LBS)
Max. Loading Weight: 150kgs (330.69LBS)
Packing: 1pc per carrying bag
MOQ: 1pc
300pcs with logo printed
Delivery time: 3-7days for 1pcs, 25days for 300pcs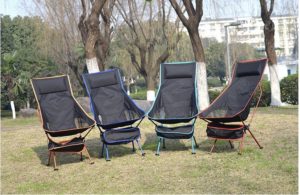 Stock Color for your selection.
Lightweight Aluminum Folding Beach Chairs Feature:
The foldable aluminum pole, fabric and shock-cord structure make it easy to set up and fold down. Lightweight Aluminum Folding Camp Chairs are an ideal choice for all outdoor activities like camping, BBQ, hiking, beach, by the fire pit, travel, picnic, festival, hunting, garden or any outdoor activities
This Orthopedic recommended and ergonomic designed folding chair has a 17.7" wide and soft sponge headrest to support your neck and give you fully relax. The breathable mesh net design makes sitting comfortable even if sitting for a long time.
Weighs only 2.98 lbs/Per Piece. Aluminum Folding Camping Chairs can fold down into a 17x6x5 inch included carry bag that can fit into your carry-on or attach to your backpack
Key Features of Aluminum Folding Camp Chair:
Lightweight and Portable: Made from lightweight aluminum, our folding camping chair ensures easy transportation and hassle-free setup. It's designed to be compact and foldable, allowing you to carry it effortlessly in your backpack or beach bag.
Enhanced Comfort: The integrated pillow offers added support and comfort, providing a cozy resting spot for your head and neck. Whether you're lounging by the campfire or relaxing on the beach, our folding chair with a pillow ensures a comfortable seating experience.
Durable Construction: Crafted with premium aluminum 7075, our aluminum folding beach chair offers exceptional strength and durability. The sturdy frame can support a substantial weight capacity while withstanding the rigors of outdoor use.
Versatile Design: Designed for multi-purpose use, this beach chair with pillow is perfect for camping, beach outings, picnics, backyard gatherings, and more. Its versatile design makes it suitable for various outdoor activities, ensuring you have a comfortable seat wherever you go.
Easy Setup and Storage: Our aluminum folding camping chair features a user-friendly design that allows for quick and effortless setup. When not in use, lightweight aluminum folding beach chairs conveniently folds down into a compact size, saving space and facilitating convenient storage.
Stylish and Functional: Combining style with functionality, the aluminum folding camping chair boasts a sleek and modern design. Aluminum Folding Chair offers both aesthetics and practicality, ensuring you can relax in style while enjoying the great outdoors.
Choose our Aluminum Folding Camping Chair with Pillow for your next outdoor adventure. Its lightweight construction, portability, and enhanced comfort make it the ideal choice for camping trips, beach outings, and beyond. Experience the perfect blend of convenience, durability, and relaxation.